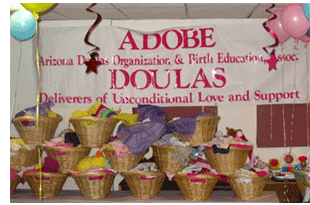 ADOBE Doula's Baby Shower with Love is an inspirational event that has been established to help pregnant and new mothers in need. While working with pregnant and parenting teenagers in the heart of South Phoenix, ADOBE was made aware of the unmet needs of young families. Our Baby Shower was inspired while ADOBE was working with teh Early Head Start pregnant mothers. We were in our group sharing and learning when a young mother, 17 years old and having her third baby, shared her belief that if you registered at Target for the Lullaby Club you get free stuff.
I responded. "No, that's not how it works." But the young mother insisted that was what she had heard and that is what Target does. So I proceeded to call Target and put the call on my speakerphone for her to hear the response. The Target associate information is with the definitive and disappointing answer, "No."
Well, as I observed the young pregnant mother's reaction and her heart sinking at the reply, so did mine. The young mother continues with telling all of the other pregnant mothers that a teacher from the Early Head Start would buy them a gift - not to worry. I stopped and it hit me. I asked this young mother if she had ever had a baby shower? The answer was "No." It never dawned on me that something so simple as a baby shower is just not a reality for so many.
Well of course I said, "We've got to have a baby shower for all of you!"
Our first Baby Shower with Love was in July of 2004 with three pregnant mothers in attendance. Our second was in October 2004 with twenty-five pregnant mothers. The April 2005 event hosting 189 moms-to-be!
The doulas, midwives and community members that came together to help celebrate these women and their babies was incredible! So often society makes young or poor pregnant women feel ashamed that they are having a baby. While we can't undo life's situations, we can help make the best of what life gives us. Helping pregnant women and new mothers to feel special and shower them with happiness is something that ADOBE wants to become contagious and spread all over our great nation, continent and world.
This event is our way of beginning to wage a war against fetal and infant deaths in Phoenix. For more information on the infant mortality rates contact ADOBE.
ADOBE hosts two Baby Shower with Love events per year and accepts donations year-round. Please contact ADOBE to arrange a donation pick-up. Thanks a bunch!